Driving and Roundabout fears
---
Many people have a particular view on roundabouts with regards to fears and anxieties.
Indeed I once taught a lady that had passed her driving test but put herself forward for refresher lessons. She explained that she didn't like roundabouts, not uncommon I thought, until she went on to add, her instructor was as good as gold as he did his best to avoid them.
In her best interests, I didn't think so, as when we approached the first roundabout, the poor lady had a panic attack like I'd not seen before or since.
The term, 'Roundabouts' is a little misleading as the road layout is variable with regards to size and particularly shape. i.e. The junction is not always circular.
Very simply, roundabouts allow traffic from different roads to merge or cross as any junction, but without necessarily stopping.
The view on approach to most roundabouts is typically open which will tend to mean that you can
look for gaps
in traffic which will allow you to continue if safe.
Basic rules
You need to consider, you normally give way to any traffic approaching from your immediate right as those vehicles have priority.
The traffic flow is in one direction as guided by signs, and in all cases, vehicles Must pass round the central markings except when you are physically incapable of doing so.
Exceptions
Like most of driving, there are grey areas or exceptions to the basic rules.
In a few cases, traffic on the roundabout has to give way to traffic entering. Look out for 'Give Way' signs and markings on the roundabout.
Some roundabouts are traffic light controlled (sometimes part-time based on time of day) which determine which road users have priority.
It is important to always apply the LMSPSL routine on the approach with importance being placed on the
LOOK
element.
Roundabouts can be particularly hazardous areas so it is important to always look well ahead for the advance warning sign.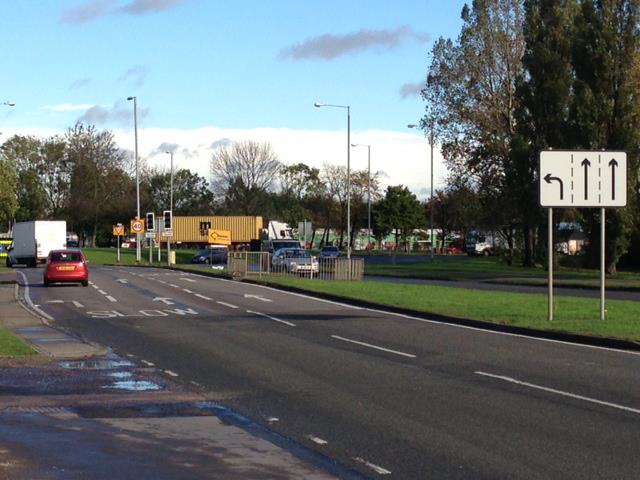 The advanced warning sign and especially the roundabout direction sign will give you a clear picture of the complexity of the road layout of the roundabout, as well as route directions.
Usually, road markings on the approach and/or on the roundabout will support the direction signs although as you can see from the image, it's not always exact.
If vehicles are covering the road markings then drop back to allow time to read the markings or be guided by the signals those vehicles are giving as this may help to determine where each lane is intended.
As a result you will be able to select the most appropriate lane for your journey. It is vitally important to get into the correct lane in good time to help other road users know where you are going.
Try to avoid straddling lanes as this could cause confusion or in the worst case scenario lead to a collision.
If you find yourself in the wrong lane, avoid changing lanes at the last moment, simply continue in the direction you are heading or be prepared to circle the roundabout again, it's usually the safest option.
Procedure
The procedure for dealing with roundabouts in more detail can be viewed in our '
driving techniques
' section.
This information will support the guidance given by your driving instructor although I should add that I have seen and heard a variety of advice from said instructors that vary from stopping at every roundabouts to a choice of gear selections.
It is of little surprise that learners in particular find the procedure and roundabouts in general confusing.
Remember, It is important to always apply the LMSPSL routine on the approach with importance being placed on the
LOOK
element which will help every time in determining what to do correctly.
Mini roundabouts
Approach these in the same way as a normal roundabout as the same rules apply. Remember there is less space to manoeuvre and less time to signal. For example, when following the road ahead and it's the 2nd exit you intend to take, a signal is not necessary.
You Must pass round the central road marking unless you are driving a large vehicle or towing a trailer which is physically incapable of doing so. It is common practice for many road users these days to pass on the wrong side of the island; this is both illegal and dangerous. Very simply the road marking is placed to keep road users apart.
Be prepared for vehicles to go full circle around the roundabout which can be difficult on smaller junctions. This may mean an adjustment so look out for their signals, speed and position to help you to anticipate their intentions.
Some complexes have double mini roundabouts. Treat these separately and always give way to the right of each roundabout. Here it's important to take effective observation, including looking across to see available gaps and for traffic that may block the immediate right. This may allow enough time for you to make a move.
We would be interested in your views and experiences, please feel free to leave your comments which might help others.
Make a booking
COMMENTS