4 things you need to think about when choosing a driving instructor
B efore committing to a driving school, check out some helpful tips for choosing a school that will offer the best possible experience for you or your child.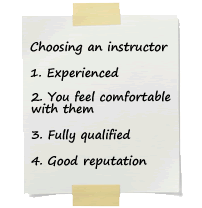 Does experience matter?
It is important to have an experienced driving instructor to introduce you to such a stressful activity.
Highly experienced driving instructors will generally have excellent individual driving test pass rates due to providing driving lessons to a variety of different individuals over many years.
A highly qualified driving instructor can quickly determine the best approach to ensure that their students are learning to become expert drivers.
Do you feel comfortable?
Choose an instructor that you or your child feels comfortable with.
Learner drivers are usually nervous on their first driving lesson. The instructor should make you feel at ease and comfortable.
You will be spending a lot of time together and you should fully understand the teaching techniques and methods that the instructor uses.
If for whatever reason, the instructor makes you feel uneasy, look for another.
Are they fully qualified?
A Driving Instructor would have needed to pass 3 tough tests in order to be fully qualified, they will also be checked by the Driving Standards Agency (DSA) periodically on their level of instruction as well as carrying out a criminal record check.
The Instructor must display a green badge in their car window if they are fully qualified, or a pink badge if they are part qualified.
Check their reputation?
Ask friends and neighbours about their experiences and choice of driving instructor. Can they recommend one for you? Look for a driving instructor that best fits your needs.
Think about going with a Driving School rather than an independent instructor. If you are not happy with your instructor, generally you will have the ability to ring the school up and ask to change for someone else. You also will have the reassurance that all relevant checks have been done for you.
If you do not know anyone that can recommend an instructor, simply look online for a local instructor. Online reviews can indicate a good instructor.
Regardless of reputation, if your child isn't comfortable their learning experience will suffer as a result.
Good driving instructors are highly qualified and patient and they can quickly determine the best approach to ensure that their students are not only learning to become expert drivers but they are also doing it in a relaxed and comfortable atmosphere.
0 Comments
Comments have been switched off for this post!